Australia is blessed with some of the best landscapes in the world, and these landscapes are adorned with stunning and strong hardwood species. Rather than import timbers from America and Asia, we think one of the best ways to create spaces that are both beautiful and hardwearing is through our very own hardwood timbers – and it's easy to see the attraction. Offering colours and grain patterns that are rarely found elsewhere, they are loved by architects and designers across the country. For a project that stands out from the crowd and complements our local environment, we recommend using high-quality Australian timber.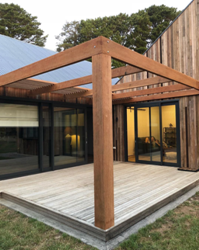 Timber pergolas can be the ideal addition to any property and can create an effortless transition between the exterior and interior of your home. To ensure the natural features of your timber shine through, we recommend simply oiling or staining the beams. We love clean, crisp lines, as this allows the hardwood to be the focus of the project – rather than ornate detailing and roofing. For added shade, consider horizontal slatting in place of the roof, and planting creeping foliage for dappled natural sunlight.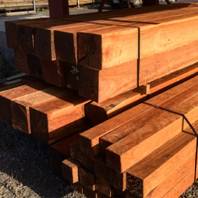 It seems that every house across Australia has standard paling fencing, you can ensure your home stands out from the crowd by investing in a feature fence with Australian hardwood at the heart of the design. Our personal favourites include the dramatic, solid post and rail fence, which offers charm and character. Alternatively, if you want to make a statement, consider a stunning entry gate that complements your façade. With a huge range of timbers to choose from, we suggest a hardwood such as ironbark – strong, durable and termite resistant, it offer a beautiful variance in colours, ranging from light pinks and deep reds to creams and grey browns.
To ensure you have the best timber for your project, we stock a large range of Australian hardwood beams and slabs in different lengths and widths. However, if we don't have the size you're looking for in stock, speak with our expert team members today – we can order in any size from 38 by 38mm to 300 by 300mm.
At Everist Timber, quality and sustainability are our primary focuses. Our mill is fully certified to Australian Forestry Standards and we supply appearance grade only – we reject timber that doesn't meet our high standards and we're committed to ensuring our hardwood is available for future generations to enjoy as well. Our keen eye for detail has helped us develop relationships with some of the leading architects, designers and landscapers across the country, and it is our aim to bring premium Australian timbers to projects across the region. If you're interested in the best, we recommend calling our experienced team on 5979 1674 today.