Yes, Treated pine is safe to use in gardens, but if you are worried about the old-style arsenic-treated pine, the new stuff – ACQ treated pine – is arsenic-free and is available at Everist Timber appon request.
Lots of people worry about the safety of treated pine sleepers for vegie garden beds but, new products and sound research should ease organic gardeners' fears.
One of the most popular ways to edge raised vegie garden beds is to use timber sleepers of some sort. And that's where people start to worry. They know that the famous poison arsenic is part of the treatment used to preserve the most common sort of treated pine – CCA treated pine (which stands for 'Copper Chrome Arsenate'). The understandable fear is that the arsenic will leach into the soil and enter the plants. Considering that almost all backyard vegie growers these days are growing their own food organically, with the emphasis on chemical-free, healthy plants, the idea of poison lurking in their organic-rich soil is definitely not what you want.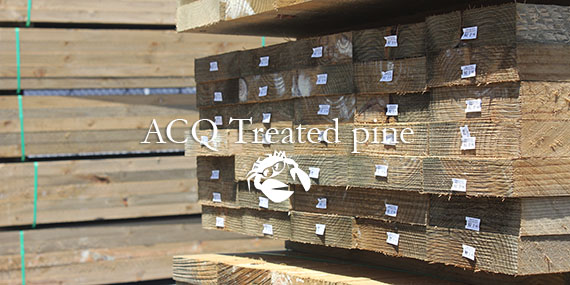 ACQ Treatment is the new, safer type of treated pine that everyone can use with peace of mind. Our standard stock here at Everist Timber is CCA treated but if you request it, we will order ACQ for you. All sleepers are H4 treated for in-ground use.
The letters ACQ indicate the use of Copper and Quarternary Ammonium Compound to protect against fungi, termites and other wood-boring insects. It is identical in performance to CCA treated pine. ACQ treated pine looks much the same as CCA treated pine. Both start out green in colour, then weather to grey over time.
What grade do you need for vegie gardens? The grading system is based on numbers. For in-ground use, you will need to buy timber rated at least H4, which we have in stock. But H5 and H6 can be ordered if the job requires it. (H6 is rated for below-ground or in water use).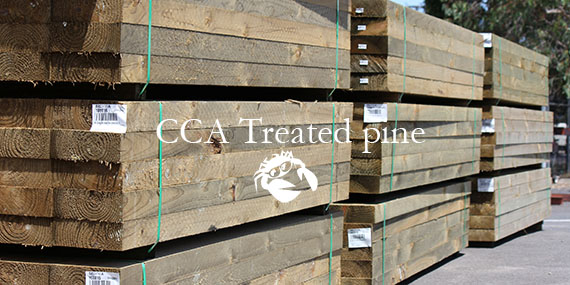 Our H4 CCA and ACQ Treated pine sleepers come in size 200 x 50, 200 x 75 and 200 x 100. We keep a range of lengths 2.4, 2.7, 3.0 and 3.6. But no 2.7's in the 200 x 100.
If you still have concerns we also keep a large range Mixed Hardwood sleepers.