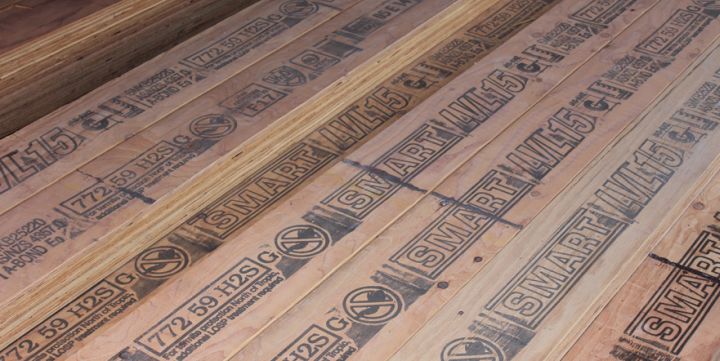 If you're thinking about renovating your home, you may be thinking about what you want to change, and what can stay the same. Generally, people find it easy to add a coat of paint and new décor, but don't often think far beyond that in terms of modernising their homes. Yet if you're thinking about doing an extensive renovation, complete with removing or adding walls and rooms, you'll definitely need to invest in quality structural beams to support your home. This may seem overwhelming, but with laminated veneer lumber (LVL), it doesn't have to be a scary process!
What is laminated veneer lumber?
Before we get into the nitty gritty of the installation process, it pays to know what LVL actually is. An engineered wood product, Laminated Veneer Lumber (LVL) is made from multiple layers of pine glued together with A bond adhesives. As its factory made, it's stronger, straighter and more uniform than natural wood. It's also far less likely to warp, twist or shrink.
Handy tip when ordering:
We stock Tilling LVL15 that come 42mm thick opposed to Hyspan that do them at 45mm. Hyspan do a 63mm thick beam and Tilling does a 58mm beam they will both span the same despite the difference in thickness. Example: If your plans call for a (H2) 200 x 63 Hyspan a (H2) 200 x 58 LVL15 will do the same job.
Where can it be used?
LVL is most commonly used in the place of solid F17 hardwood beams, thanks to its high strength to weight ratio. This makes it perfect for rafters, floor joists, lintels, framing and roof trusses. Given how versatile it is, it's used by both residential and commercial projects. It come standard H2 termite treated or H3 treated for external uses.
How is it installed?
Finally – what we've all been waiting for. There are a number of steps you need to follow when installing LVL, all listed below:
Choose from our range of LVL to decide which beams are best suited to the job you're undertaking. If you're planning on significant structural modifications, you should reach out to an engineer. They can instruct you on the ideal material and sizes you'll need.
Before you begin, make sure you've made your plans and checked them twice! If space is limited, have the LVL beams and all other materials and tools on site to ensure they don't get blocked out. Install temporary support walls while work is underway to keep the structure stable and solid.
Once you're ready to remove the temporary supports and install the beams, lift each beam into place and temporarily support them with a post. Measure, cut and install the support posts, and secure the beams together using engineered screws. Once the king studs are installed, the support walls can be removed.
Now you're free to clean up anything left behind, tidy up the edges, and prepare for the next stage of your build! That may be plaster board and instillation, or depending on your home and tastes, you could even leave the beams exposed for an industrial finish.
If you're unsure about your own capabilities, or which material you should be using in your home, speak with our friendly team. We can instruct you on the best route if you're planning on a DIY project, or direct you toward quality tradespeople who can help you with any task – big or small. Visit us in store for advice and to view our entire range of laminated veneer lumber today.