The popularity of Blackbutt as a feature timber

We have seen a noticeable trend towards lighter coloured timbers in the past few years and Blackbutt is one that has really taken off. Lighter claddings, lighter decking's are really popular at the moment in place of your more traditional species like Spottedgum, Ironbark, Jarrah and Merbau.

Blackbutt and Silvertop ash are the two lighter coloured Australian hardwoods with golden yellow to pale brown tones. Silvertop ash generally has more gum vein and Blackbutt has a much clearer finish. Both are class 1 hardwoods but with different densities. Blackbutt is more solid and has a tighter grain. Both will reach up to a BAL29 fire rating.

Due to the popularity of these lighter coloured species run stock can be hard to find but, it is still available. If you are looking for something different to the dark browns and reds these may be the timbers for you.
Blackbutt is available in decking, shiplap cladding, flooring and solid section timbers like F27 structural grade and select grade 140, 190, 240 and 290 x 45 which have been used quite a bit in the last few years as outdoor structural features.

Blackbutt is perfect for the interior of your house whether that's flooring, feature lining or solid sizes. Flooring is available in a range of widths 80, 130 and 180 it also comes in an overlay 14mm as well as 19mm thickness. Compared to Tas oak or Vic ash Blackbutt is allot harder wearing and wont dint or scratch as easy. Blackbutt has a Janka rating of 9.1 and Tas oak has a 5.5 rating. (Janka rating(kN) is a hardness rating) So high heels wont dint your floors.

Neil Williams & Associates used both decking and beams to create an awesome pergola area at the back of this job in Flinders.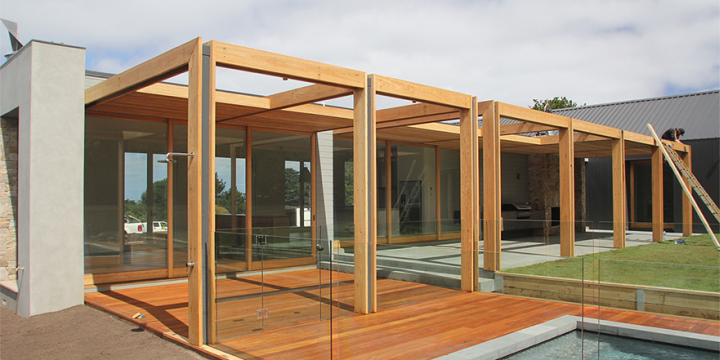 If this is a timber that you may be considering using in your upcoming or current project feel free to contact our sales staff at Everist Timber for more information on the products, applications and availability of Blackbutt. We can source, quote and supply based on you jobs requirements.