This version of Anchormark's engineered, German made screw offers something new for cladding and decking.
The traditional stainless steel screws can stand out against the darker timbers like Ironbark and Spottedgum.
The Vintage screws can blend into the darker timbers so the fixings don't seem so predominate in the overall look.
This is something that hasn't been available previously while still being a stainless steel screw.
The advantages of this screw are:
The timber and decking screws offer a high degree of weather resistance
The self drilling tip makes the installation quick and easy
Small head diameter and underhead pockets ensure that the head can sink cleanly and easily
Grooved shaft adds strength
Timber is protected from tearing or splitting by the drill tip
304 stainless steel.
NEW: Available in standard s/s and a Vintage s/s

Sales Unit: 500 Boxes and 1000 Buckets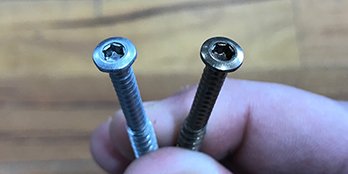 Standard Stainless Steel and Vintage Stainless Steel.